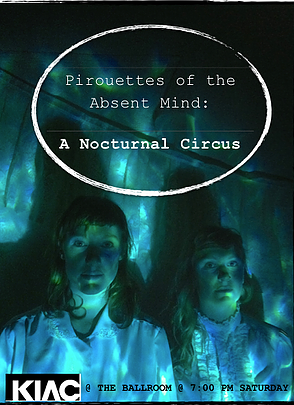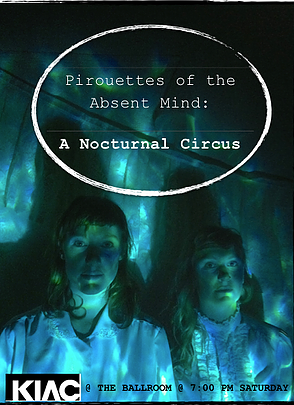 PIROUETTES OF THE ABSENT MIND: THE NOCTURNAL CIRCUS


Riverside Arts Festival, 2015
Klondike Institue of Art and Culture.

Pirouettes of the Absent Mind :The Nocturnal Circus, is a performance that will take place in a space of complete darkness. Dawson City's KIAC ballroom will be transformed into a kind of void; reacquainting Yukoners of the midnight sun, with night and the Unknown.

The dark space becomes the shared cerebral-matter of both the performers and audiences mind with performances that animate the dreams, anxieties, fears, fantasies and neurotic tendencies that manifest in engaging with the physical world.

Performers will guide participants in an engaging experience of the absurd; inspired by vaudeville and a Lynch-ian aesthetic.The ballroom becomes both winter and the recession into the mind. Playful monologues and music animate the insecurities of winters approach and the absent-minded ness of summer.