HORIZON FACTORY:
SISTERS OF THE CELESTIAL ORDER OF NEPHOLOGY

Polluting clouds from factory smoke stacks, exhaust clouds from fume pipes, atmospheric clouds on the horizon, electronic clouds where data is stored; The Sisters of the Celestial Order of Nephology (the study of clouds) is an interdisciplinary performance project by Horizon Factory (Erin Hill and Nina Vroemen).

Forming in 2019, during a dance residency at Studio 303 (Montreal), the fictitious, sudo-sect of two, blue cloaked, atmospheric-nuns were called by the unseizability of clouds and the ephemeral narratives that form them. These narratives are personal, environmental, futuristic, and potential warning signs.

DEEP GAZING: SUMMERWORKS + ARTSCAPE GIBRALTAR RESIDENCY

summer 2022

This insight into clouds and reattuning to weather is significant information for the world today as we open to change with guidance from quantum work like yours, that activates beauty, irony without cynicism, and the infinite of the surreal with a loving gaze, as ways through.

-Anne Bourne
Let the clouds direct you in ways of seeing, slowing, being in-relation,and reimagining possible futures.

Deep gazing, led by the Sisters of the Celestial Order of Nephology, is an interdisciplinary performance project inspired by experimental composer Pauline Oliveros and her practices of Sonic meditation and Deep Listening®,

Oliveros asks, what does it mean to listen? In response, the Sisters ask, what does it mean to look?

For the SummerWorks Lab Horizon Factory shared how to identify messages and meanings in the clouds beyond the conventions of weather forecasting, and explain how to make predictions with cloud formations through a series of embodied exercises.
Huge thank you to Deep Listening practicioner and artist Anne Bourne was a consultant on the project.
and the generous support from
The Canada Council for the Arts.
CCOV & SUONI PER IL POPOLO PRESENT
"Pouvez-vous amener votre BBQ ?"

May 2022
Can you bring your BBQ?" is an hour and a half of music and dance that will transport the audience in a reconstituted park in the CCOV studio. Basketball court, fake lawn, barbecues and tablecloths, the time of an evening in the heart of winter, the spectators will live a real summer day to the rhythm of invited artists: dance performers, circus performers, saxophonists, DJs, etc.
Ideation : Hanako Hoshimi-Caines, Nate Yaffe, James Goddard
Pictures by Mathieu-Philippe Perras





KAMOURASKA: THIRD SPACE 2021
CONSEIL DES ARTS & DES LETTRES PROGRAMME ATELIER-RÉSIDENCES
Merci à
Le Conseil des arts et des lettres du Québec
---
DARLING FOUNDRY: PLACE PUBLIQUE 2020

Place Publique is a space for visual arts and the public, set up every summer on Ottawa Street in front of the Fonderie Darling buildings. Site-specific artworks, performances, and workshops activate and transform the space into an interactive platform that brings together artists and citizens. Through a variety of activities, audiences have unique aesthetic experiences in a friendly and festive open-air environment. By creating this site of expression, the Fonderie Darling affirms the role that art plays in enriching the community's well-being and quality of life.

HORIZON FACTORY performed The Sister's of the Celestial Order of Nephology August 27th, 2020 as #4 instalment of the Allegorical circuits for Human Software.

Curator: by Laurie Pigeon

In response to the covid pandemic masks were manditory at the event and the experince was also live streamed. The experience is now availble on vimeo:
---
..: CLOUD SCRYING :..


The Sisters offer a clairvoyance service through their Instagram page. They offer guidance using a cloud divination technique. To receive a divination, send a cloud photograph to @horizonfactory and an interpretation will be offered during your exchange.


---
RURART SUMMER RESIDENCY & PERFORMANCE 2020
Horizon Factory were invited to participate and perform in RURART's Summer RÉSIDENCES MULTIDISCIPLINAIRE EN RURALITÉ 2020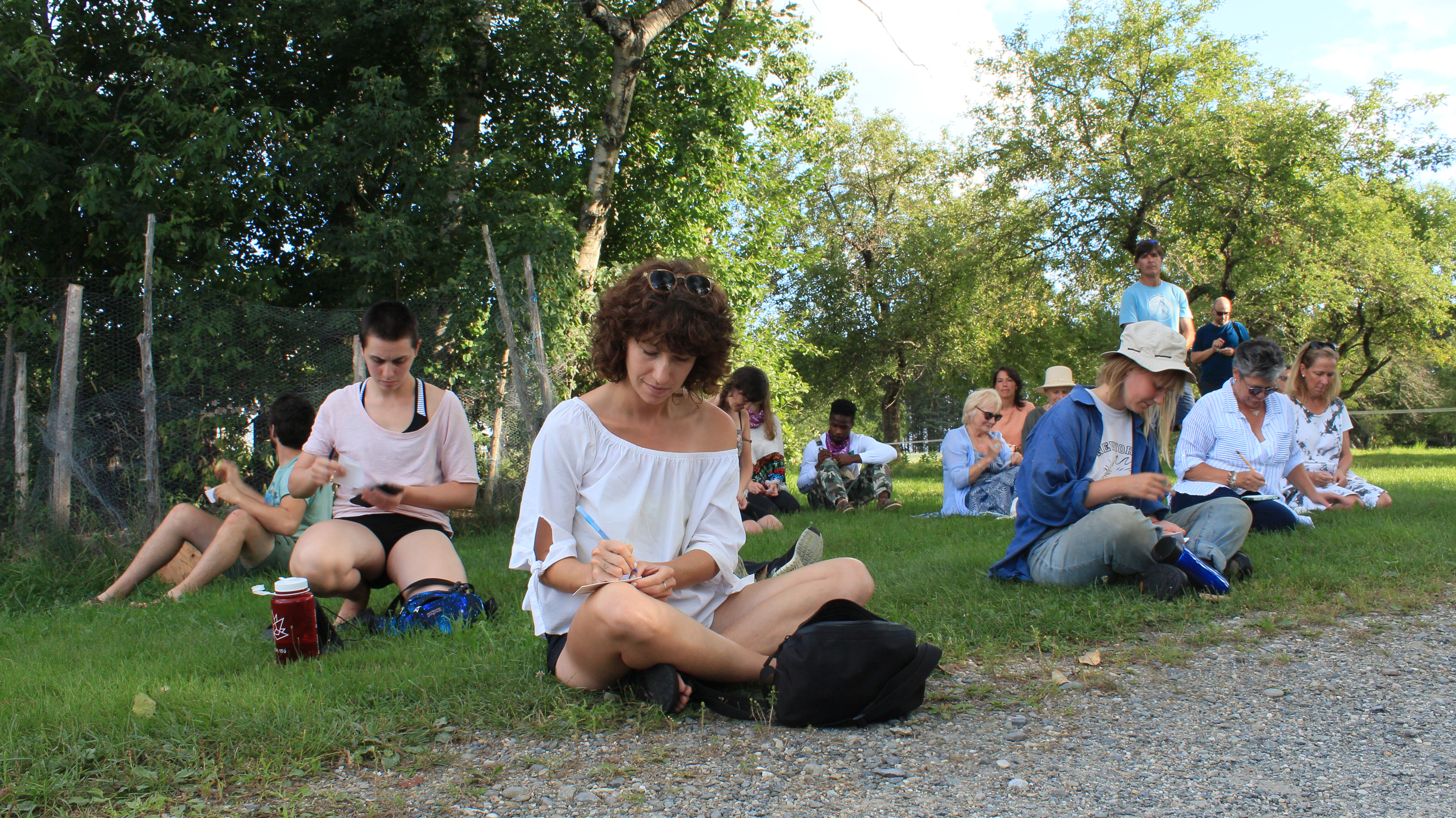 ---
STUDIO 303 SUMMER RESIDENCY 2019